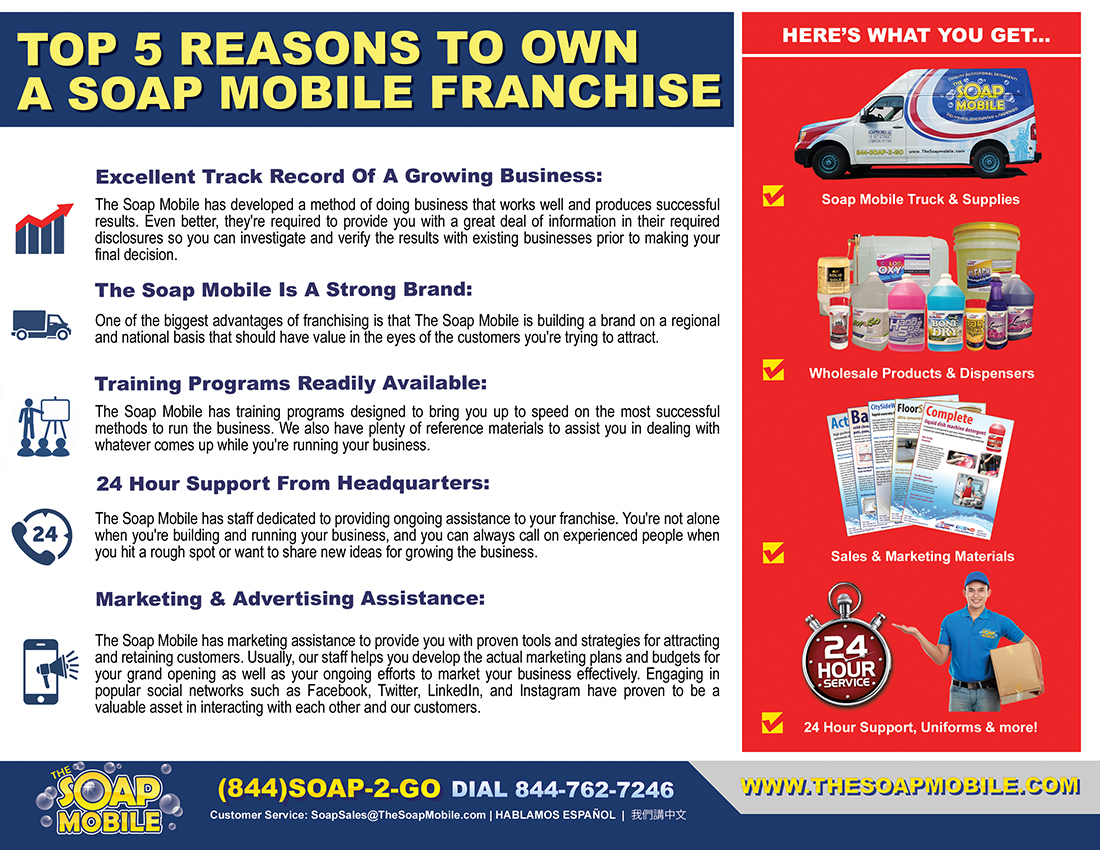 Top 5 Reasons To Own A Soap Mobile Franchise
Excellent Track Record Of A Growing Business:
The Soap Mobile has developed a method of doing business that works well and produces successful results. Even better, they're required to provide you with a great deal of information in their required disclosures so you can investigate and verify the results with existing businesses prior to making your final decision.
The Soap Mobile Is A Strong Brand:
One of the biggest advantages of franchising is that The Soap Mobile is building a brand on a regional and national basis that should have value in the eyes of the customers you're trying to attract.
Training Programs Readily Available:
The Soap Mobile has training programs designed to bring you up to speed on the most successful methods to run the business. We also have plenty of reference materials to assist you in dealing with whatever comes up while you're running your business.
24 Hour Support From Headquarters:
The Soap Mobile has staff dedicated to providing ongoing assistance to your franchise. You're not along when you're building and running your business, and you can always call on experienced people when you hit a rough spot or want to share new ideas for growing the business.
Marketing & Advertising Assistance:
The Soap Mobile has marketing assistance to provide you with proven tools and strategies for attracting and retaining customers. Usually, our staff helps you develop the actual marketing plans and budgets for your grand opening as well as your ongoing efforts to market your business affectively. Engaging in popular social networks such as Facebook, Twitter, LinkedIn, and Instagram have proven to be a valuable asset in interacting with each other and our customers.
844-SOAP-2-GO or dial 646-761-2781